Fireworks season is well underway and Kent County Council's Trading Standards Team is busy helping to keep communities safe.
As well as checking and advising retailers on selling and storing fireworks safely, Trading Standards officers also respond to reports of people selling fireworks illegally, most often from private homes, the backs of vans or anonymously via social media.
Kent County Council's Head of Trading Standards Steve Rock said: "Anyone selling fireworks must have a licence, meet strict storage requirements to keep the products safe and stable – and ensure the public are properly protected.
"Fireworks sold illegally by unlicensed sellers are cheap for a reason. They can be old, poorly stored, counterfeit and badly made – making them unstable and unsafe, which puts buyers, users and spectators at serious risk of injury.
"Always check fireworks carry a CE mark to show they meet required safety standards.
"And anyone seeing fireworks being offered on social media or sold anywhere other than a licensed retailer should contact Kent Trading Standards through 0808 223 1133, or email trading.standards@kent.gov.uk."
There are also other rules around the use of fireworks which are designed to keep people, pets and wildlife safe.
Watch this video from KCC Trading Standards to find out more about firework safety this Autumn: Fireworks Safety Advice (facebook.com)
For further advice on staying safe with fireworks, visit www.gov.uk/government/news/staying-safe-with-fireworks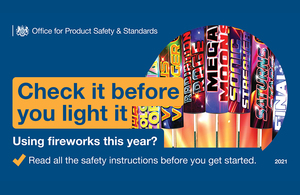 Working together for fireworks safety
was last modified:
November 5th, 2021
by